OSD-IMT Wins Two New Contracts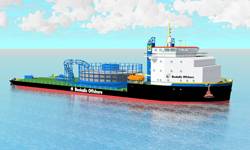 OSD-IMT, the UK arm of IJmuiden-based Offshore Ship Designers, has been chosen by Samsung and Boskalis-SMIT Engineering to develop the basic design, detailed design and production drawings for a 99 m cable laying vessel. The vessel will combine a large, obstruction free main deck with ample accommodation facilities, allowing for multiple future configuration possibilities. In the current cable laying configuration, the deck has a cable loading capacity of 5,000 tons.

Under a separate contract OSD-IMT has been tasked by Dales Engineering Ltd, Aberdeen to design and develop the upgrade conversion production drawings for the Farstad-owned UT 755 multi-role 67 m PSV FAR SCOTIA. The new design will provide upgraded existing and new additional accommodation, ROV equipment and associated seating, new A-frame and associated winches/seating, new deck cranes and associated column/stiffening, new workboat and associated davit and seating.