China Shipyard Gets Rescue Boat Contracts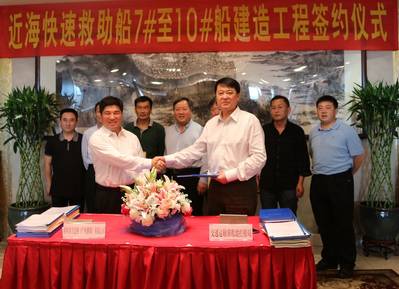 Afai Southern Shipyard awarded contracts to build 4 coastal fast rescue vessels for a Chinese Government agency.
The contracts were signed between Afai and the Salvage Bureau of Ministry of Transport in the South China port city of Guangzhou.
Afai has successfully delivered three of this type of coastal fast rescue vessels in the past, and at present three others are presently under construction in the yard.
These fast rescue boats are full aluminum wave-piercing catamarans, with an overall length of 49.9m, a beam of 13.1m, and a depth of 4.5m, propelled by twin engines and twin water jets. The builders say that these vessels have a large deck area, fine navigability, with high speed and maneuverability.