Deltamarin Contributes to Arctic Carrier Design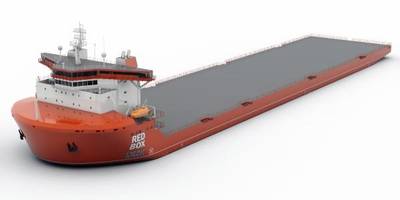 Deltamarin Ltd. has provided Aker Arctic Technology Inc. with design services for two polar class heavy deck carrier ships intended for carrying heavy project cargos in large modules to Yamal LNG plant construction site on the Russian Yamal peninsula.

Aker Arctic, the main contractor for the design of the vessels, has developed the ship concept with its client ZPCM-Red Box Energy Services and provides the basic design for Guangzhou Shipyard International Co. Ltd. Deltamarin will assist Aker Arctic by carrying out the major part of the basic design, including development of plans and drawings for the class approval phase of the building process. The contract includes all disciplines: hull, outfitting, interior, machinery and electrical.

The carriers are heavy cargo ships with a wide cargo deck designed for the very special circumstances of the Northern Sea Route. Their main dimensions are 206.6 meters in overall length and 43 meters in beam, and they can carry a deck load of maximum 21,800 tons.

"To keep the construction of the LNG plant on schedule the ships are designed for year-round operation and exceptional ice conditions. The ice class is therefore Polar Class 3," explained Oskari Jaakkola, Director, Offshore Oil & Gas at Deltamarin.

The carriers follow the zero-dumping principle as all solid and liquid wastes will be stored on board and discharged to shore.

The carriers will be constructed in China at the Guangzhou Shipyard International Co. Ltd for Red Box Energy Services. Delivery is planned by the end of 2015.