Damen Shipyards Unveil New Tug at ITS Convention, Barcelona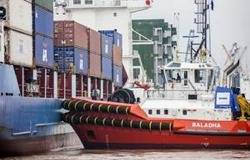 Damen Shipyards unveils new type of ASD Tug at the International Tug & Salvage Convention (ITS) in Spain
Damen Shipyards spotlighted its newly designed ASD Tug 3212 at the International Tug and Salvage Convention (ITS) in Barcelona. This innovative and powerful tug in the 85- tonne BP range is the result of three years of research and represents a completely new Damen ship type and a milestone in ASD tug design.
Highlights of the new ASD Tug 3212
◦ revised hull form for higher speed
◦ dry foredeck due to higher bow
◦ operational excellence in 3 m wave height
◦ 85 tons Bollard Pull
◦ 14.5 knots sailing speed
◦ crew can see and operate everything from the main deck
◦ new type of Render/Recovery Winch
◦ new type of Towing Bitt
◦ new super-absorbent Bow Fender
◦ lots of options, incl. ICE-class, Fi-Fi 1, aft crane and aft winch
Courtesy of Multraship, one of the first clients to express its confidence in the new design, Damen showcased the Multratug19 at the ITS. This vessel is one of the new ASD Tugs in the 80 ton bollard pull range and the first with the standard propulsion installation of 5050 kW. During its sea trials, the Multratug 19 achieved 85 t BP and a speed of almost 15 knots.