STX Finland Completes Fjord Line Cruise Ferry Conversion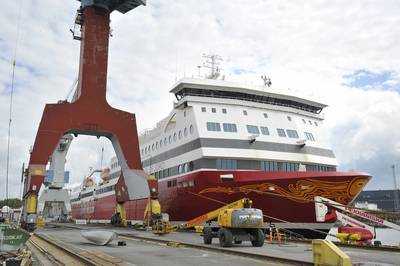 On June 4, 2013, STX Finland and the Norwegian passenger ship company Fjord Line AS signed a contract on conversion of Fjord Line's cruise ferry. The steel production for the conversion project began January 10, 2013. In connection with the rebuild of MS Bergensfjord, the ship was renamed MS Oslofjord. The overall value of the conversion contract was approximately EUR 30 million, and it provided some 200 man-years of labor.

MS Oslofjord is 134 meters long and 24 meters wide, built in Norway in 1993. The converted ship will enter traffic between Sandefjord, Norway and Strömstad, Sweden in June 2014. The most significant change in the ship was transforming it from a night ferry to a day cruise ferry. Two cabin decks were converted to public spaces, which practically quadrupled the tax-free area, and increased the selection of cafeterias and restaurants significantly. The interior changes were designed by the Norwegian Falkum-Hansen Design. One fixed middle deck for cars was added, providing additional parking space. The third deck was extended, and a new area, called the Fjord of Coffee, was built there. In addition to interior design, the appearance of the ship changed as well. For example, the ship's window area increased, and its funnel was covered with aluminum. The conversion increased the ship's passenger capacity considerably. After conversion, the capacity is 1,800 passengers and 370 cars.

"The conversion implemented on the ship was extremely extensive and demanding. The basic design needed to be reviewed almost totally and the project was executed on a turnkey basis," said Kari Toivonen, Project Manager, STX Finland Oy.