GE Power Conversion Inks Petrobas Drilling Rig Contracts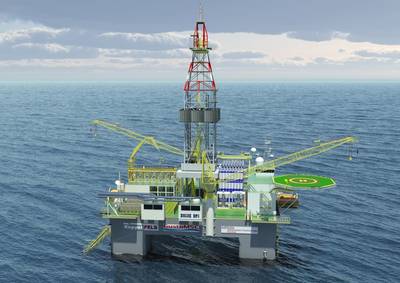 GE's Power Conversion Business signs US$120-million contracts to support Petrobras' Pre-Salt Drilling Program.

GE's Power Conversion business has been selected by Keppel Offshore & Marine Ltd, a leading designer and builder of high-performance mobile offshore rigs, to supply the electrical power generation, thruster and drilling drive technology for six new semi-submersible drilling rigs for Brazil.

Brazil is one of the world's largest oil producers, and its national oil company Petrobras has plans for $224 billion in capital expenditures from 2011 to 2015. Keppel Offshore & Marine Ltd. recently announced that it had secured contracts from Sete Brasil Participações S.A. for the design and construction of semi-submersible drilling rigs based on Keppel's proprietary DSS™ 38E design. With the first rig scheduled to enter service in the fourth quarter of 2015, the deepwater drilling rigs will support the exploration of Brazil's estimated 50 billion barrels of deep-sea oil and gas reserves.

One of the major benefits of Power Conversion's diesel electric power and propulsion technology is the flexibility to place components, such as diesel generator sets, switchboards and drives at their most efficient location. Besides an efficient layout, it also is easy to create separated compartments to fulfill safety and redundancy requirements. Combined with redundant power and control cabling to and from all electrical systems, this creates an optimal installation that will meet the most stringent regulatory requirements. It is possible to design a vessel so that flooding or fire in a specific compartment will not lead to a blackout of the total propulsion system or power supply system. Controlled-specified operation can continue to ensure the safety and availability of the vessel.