Academic Cooperation Addresses Maritime Ice Operations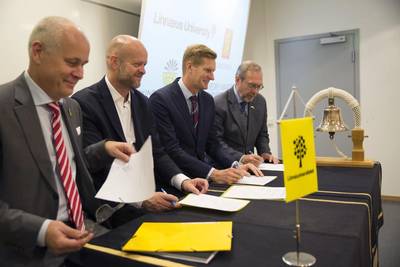 A group of industry stakeholders have signed a Memorandum of Understanding (MoU) for academic exchange and cooperation within the framework of the Kalmar Ice Academy, with a focus on collaboratively helping the offshore and shipping industries to increase operational safety and efficiency while reducing environmental impact, through furthering understanding of maritime operations in ice.
The parties, which included Kongsberg Digital, Viking Supply Ships, the Swedish Maritime Administration and the Kalmar Maritime Academy at the Faculty of Technology, Linnaeus University in Sweden, signed the MoU on October 4, 2016 at Kalmar, Sweden.
In recognition of their mutual interests in the field of education and research and as a contribution to increased international cooperation, the parties have agreed that increased scholarly interaction, cultural interchange, cooperative research and other forms of academic collaboration may benefit the maritime industry as a whole.
Specifically, highlighted areas of cooperation under the MoU are: education, i.e. development of joint courses; development of functions and programs for simulator exercises on ice navigation; collaborative research and cooperation in projects for specified areas of development. The parties will also actively seek out new opportunities for other forms of cooperation that may benefit maritime ice operations.
Kongsberg Digital, the new KONGSBERG Group division dedicated to delivering next generation software and digital solutions to customers within the maritime, oil and gas and renewables and utilities sectors, has committed to further develop the understanding of maritime operations in ice through its role in the Ice Academy.
Kongsberg Digital's navigation and engine room simulators are already helping to train seafarers to operate vessels in ice at Kalmar's Ice Academy. The simulators, which are customized specifically for ice navigation applications, are also used in research projects, a role that will expand as a result of the MoU.
"As a leading integrated technology provider to the maritime industry, research in ice operations is a key part of KONGSBERG's commitment to its customers," said Paal Aamaas, Senior Vice President, Maritime Simulation, Kongsberg Digital. "We have supported Kalmar Ice Academy with simulator technology since 2009, and are pleased to take the next step towards greater involvement alongside Viking Supply Ships and the Swedish Maritime Administration."
In addition to its cooperation under the new Ice Academy MoU, KONGSBERG simulators will also enable a new partnership between Nord University, Bodin and Lofoten Maritime Vocational Schools and the Nordland county administration in Norway. The partnership, agreed this September, has been established to strengthen education, training and innovative research within Arctic maritime safety and security.