Incat Crowther Launches 24m CAT Ferry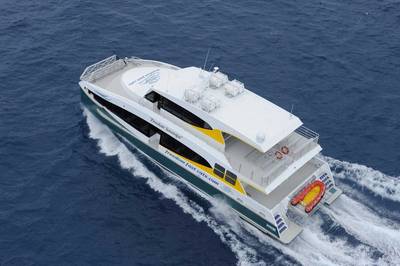 Incat Crowther has announced the launch of 24m catamaran ferry Freedom Sovereign. Launched by Aluminium Marine in Queensland, Australia, Freedom Sovereign is a near sister ship to Fantasea Sunrise, launched last year.

Freedom Sovereign has been delivered to Freedom Fast Cats, who have had considerable success with Freedom Flyer (built 1980) and Freedom Monarch (built 2010), both designed by Incat Crowther. Freedom Sovereign is configured to carry 195 passengers over two decks. The main passenger cabin seats 121 passengers, arranged in booths with tables. There is a large bar and kiosk at the aft end of the cabin. Two toilets are located aft on the main deck, one of which is wheelchair accessible.

The upper deck consists of a lounge space, slightly smaller than that of Fantasea Sunrise, which seats 20 passengers. Two additional toilets are provided on this deck, and there are 54 exterior seats. Loading is facilitated by aft side gates and midship boarding doors on the main deck. Additionally, an hydraulically operated telescopic ramp mounted on the foredeck. This allows Freedom Fast Cats to operate the vessel to beaches without infrastructure.
Powered by a pair of Yanmar 6ATM-GTE engines, Freedom Sovereign recorded a loaded speed of 24 knots.

The vessel has a top speed over 27 knots. In addition to its regular service tanks, the vessel also features transfer tanks totaling 2100 litres, which are fitted to allow for transferring sullage in future operations. Incat Crowther believes Freedom Sovereign is a prime example of the long-term relationships Incat Crowther builds with its clients. In Freedom Sovereign, Freedom Fast Cats has gained a rugged, efficient and dependable vessel.