Incat Crowther Launches 118-ft Monohull Crewboa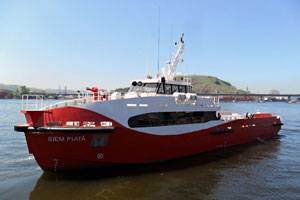 Incat Crowther announced the launch of the 118-ft Monohull Crewboat Siem Piata. The vessel was recently launched by ETP Engenharia Ltda in Rio de Janeiro, Brazil, successfully completed sea trials and was delivered to Siem Consub for service to Petrobras.
Developed primarily at Incat Crowther's USA office in Morgan City Louisiana, Siem Piata will perform the role of a P2 crew boat in the Siem Consub fleet. The vessel is certified to Bureau Veritas and Brazilian Maritime standards. The main cabin contains seating for 60 passengers in large reclining seats, some at tables. There are also generous luggage storage racks, a beverage counter and two toilets. The vessel features a large aft main cargo deck devoted to crew transfer and cargo carrying. Siem Piata has a deck cargo capacity of 50 tonnes.
Below decks accommodation includes sleeping quarters for 10 (including two with ensuites), galley, mess, crew wet room, toilets and showers and a laundry. Below deck tankage includes cargo fresh water and fuel tanks, each capable of holding in excess of 30,000 litres. Multiple transfer pumps are provided for both cargo fluids. 15,100 litres of ship's fuel and 5,800 litres of ship's water are also provided.
The vessel is powered by three Caterpillar C32 main engines, each driving a Hamilton HM72 waterjet. A ZF3050 gearbox will provide gear reduction and clutching. A single 100 hp bow thruster will be mounted forward for station keeping purposes. Primary electrical power is derived from a pair of Caterpillar C4.4 gensets each producing 99kw. The vessel also features a fire fighting monitor (6,000 litres/min) for combating off-ship fires and a purpose designed transfer platform has been arranged on the foredeck to further suit the Petrobras P2 vessel requirements.
Vessel Specifications:
Length overall: 36.00m
Length waterline: 32.95m
Beam: 7.50m
Draft hull: 1.20m
Passenger capacity: 60
Crew capacity: 10
Ship's fuel: 15,100 litres
Ship's water: 5,800 litres
Cargo fuel: 30,200 litres
Cargo water: 30,200 litres
Deck cargo: 50.0 tonnes
Deadweight: 85.0 tonnes
Service speed: 20 knots
Installed power: 3 x 1,400 bhp
Main engines: 3 x Caterpillar C32 ACERT
Propulsion system: 3 x Hamilton HM721
Gensets: 2 x Caterpillar C4.4
Survey: Bureau Veritas
Construction material: Marine Grade Aluminium