Costa Cruise Ship Makes First Abu Dhabi Port Call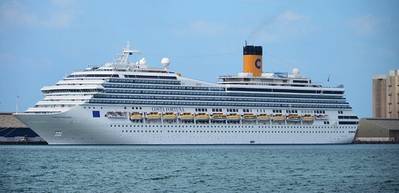 The cruise ship 'MV Costa Fortuna' was warmly welcomed on its intitial visit to Abu Dhabi, which it will follow with regular weekly calls until March 2014.

Mohamed Juma Al Shamisi, Acting CEO, Abu Dhabi Ports Company (ADPC) handed over a commemorative plaque to Captain Massimo Garabarnio to officially mark the ship's maiden call to the city.

Owners, Costa Cruises, say that the 'Costa Fortuna' carries 2,720 passengers and 1,027 crew. The cruising speed of the 273m long ship is 20 knots and she is of 102,587 gt. She was designed, they add, as a tribute to the legendary glamorous ocean liners that once sailed between Italy and the Americas.

Other stops on her eight-day-cruise-tour through the Persian Gulf and Gulf of Oman will be Dubai, Khasab, Muscat and Fujairah Khor Fakkan.