Cruise Ship Uses Boat Mooring Magnets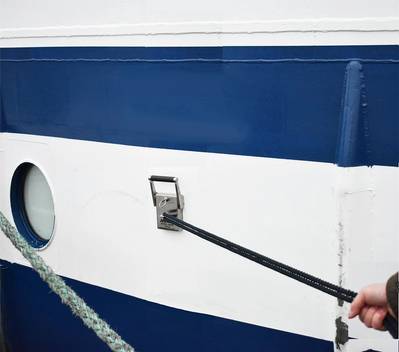 High power permanent magnets are now being used by the Silver Cloud when deploying boats for passenger excursions. The magnets, supplied by Miko Marine of Norway, each have a holding power of 500 kg and are being used by the boat crews to create additional mooring points on the hull of the ship. This enables Zodiacs and other boats to be held close against the ship before being relocated to the point where passengers must disembark for excursions.
The MAM-003S magnet is the latest addition to the Miko range of magnets and it is housed in a stainless-steel casing for enhanced resistance to seawater corrosion. Despite its holding power, the magnet is fitted with a break lever that enables it to be immediately released from the hull by the boat's crew. Boat handling also becomes faster and more efficient as there is no need to pass lines to the ship and boat crews retain total control of the operation.
The Silver Cloud is operated by cruise company Silversea and is equipped with two crane-launched inflatable Zodiac boats that are used for providing inshore excursions. Each Zodiac carries two Miko MAM magnets which are now being used to improve the overall efficiency of their operations.