Cutting Ceremony at Damen Singapore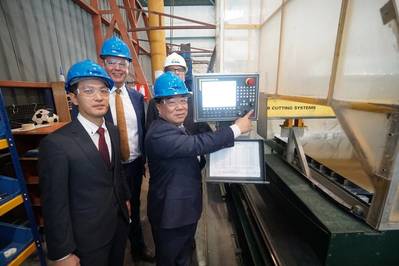 Work has begun at Damen Shipyards Singapore on the construction of two of Damen's latest fast crew supply vessel; the FCS 2710. In what was described as 'the cutting ceremony', as the vessels are being built in aluminium, Mr. Chung Pang Chen and Mr. Polin Chen of Hung Hua Construction Co. Ltd. of Taiwan were joined by Michiel Hendrikx, Sales Manager Asia Pacific for Damen and colleagues from Singapore and Gorinchem to mark this important occasion.
The two vessels, to be named the Falcon I and Falcon II, will support Hung Hua Construction (HHC) in its ambition to play a major role in the development of Taiwan's rapidly expanding offshore wind power sector. As the country's largest dredging and nearshore construction company it is already involved and, with a government target of 5.5GW by the end of 2025, there is plenty of work to be done at the ten sites off Taiwan's west coast currently under development. HHC plans to support the lead contractor Taiwan Power Company by supplying them with fast crew transfer and other support services.
The twin-hulled FCS 2710 replaces the best-selling Damen FCS 2610. Despite being just one meter longer, it can carry twice as many personnel as well as offer more flexibility, more tank capacity, greater usable deck space, increased comfort and more accommodation. The extra meter above the water also allows the vessel to operate in wave heights of above two meters, substantially increasing the range of weather conditions in which it can be at sea. The two vessels for HHC will have some additional, small changes to meet the company's specific demands as well as to optimize them for local Taiwanese requirements and conditions.
The twin Falcons are due for delivery early next year and the two companies are already discussing HHC's requirements for the future as it looks at expanding and diversifying its wind farm support fleet.