Think Tank: US Port Cybersecurity At Risk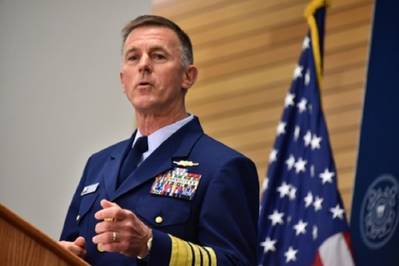 Conservative think tank The Heritage Foundation argued for increased U.S. port cybersecurity in a report published online this week.
"The U.S. Department of Homeland Security (DHS) and maritime stakeholders need to stay ahead of [cybersecurity] risks in order to keep trade flow maximized, while avoiding the creation of regulations that may slow trade and hinder business," wrote author and Heritage Foundation research assistant Riley Walters.
The report was published just a day before U.S. Coast Guard Commandant Adm. Paul Zukunft mentioned cybersecurity as a priority in yesterday's State of the Coast Guard address. He laid forth six main goals in a post on the USCG's official blog as well, the third of which was "safeguarding maritime commerce through enhanced workforce expertise focusing on cyber threat awareness, cybersecurity and energy sector trends."
With recent labor strife on the West Coast demonstrating the amount of damage port shutdowns can do to the U.S. economy, the Heritage Foundation's report examined the variety of ways that ports, which are increasingly integrated through technology, are vulnerable to cyber attacks.
"Stakeholders are moving away from traditional stand-alone systems, and maritime industrial control systems (ICS) are becoming more integrated. While new systems help to streamline production and increase the flow of trade, the number of vulnerabilities in network systems is also increasing," wrote Walters. He went onto note that the Senate Committee on Armed Services reported in September that Chinese hackers had successfully used cyber attacks to compromise systems on commercial vessels contracted by the U.S. Transportation Command (TRANSCOM). In 2013, drug smugglers hired hackers to move drugs through the Port of Antwerp, the second largest seaport in Europe. These instances demonstrate the potential for hackers to disrupt port operations or smuggle illegal goods into the U.S.
The report called on Congress to readdress legislation on increasing cyber information and called on the Obama administration to "include a focus for handling cybersecurity for port security in the new Cyber Threat Intelligence Integration Center (CTIIC)." The CTIIC is a recently created government agency that aggregates cybersecurity information across government.
Last June, the U.S. Government Accountability Office issued a report calling on the DHS to better address port cybersecurity.