Cyprus Wants Shipping Corridor to Export Mediterranean Gas to Europe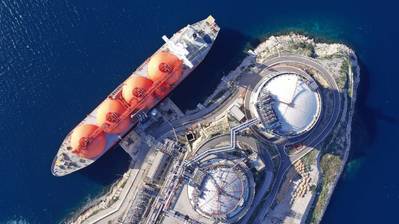 Cyprus wants to establish itself as a gateway from east Mediterranean gas resources to Europe via a shipping corridor of LNG carriers, its president said on Monday.
Cyprus's new centrist government, which came to power in February, has cooled to the idea championed by its predecessors of an "EastMed" pipeline transferring gas to Europe.
Instead, authorities now want to transport, via pipeline, natural gas from fields in the eastern Mediterranean to the island for use in domestic conventional power generation, with an additional LNG facility to process for European markets, President Nikos Christodoulides said.
"Through this facility, natural gas from the Eastern Mediterranean region can be liquefied in Cyprus and transported by LNG carriers to the European markets, thus creating an East Med corridor of gas supply to Europe," Christodoulides told a workshop of industry stakeholders in Nicosia.
The east Mediterranean has yielded some of the largest natural gas discoveries in the past decade.
Cyprus reported its first natural gas discovery in 2011, though it has yet to enter production. Plans for a 2,000 km (1,243 mile) pipeline to take eastern Mediterranean gas to Europe had been under discussion for about a decade.
However, there was a setback in early 2022, when the U.S. pulled its previous support, saying it was too expensive and would take too long to build.
(Reuters - Reporting by Michele Kambas;Editing by Andrew Cawthorne)