Damen Completes Refit of Cunard's Queen Elizabeth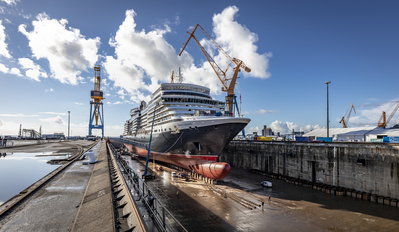 Cunard's Queen Elizabeth has left Damen Shiprepair Brest (DSBr) following a 12-day repair and refit program. She is the most recent addition to the Cunard fleet, having been delivered in 2010.
The program was highly intensive with a series of major systems being overhauled or installed. On arrival the ship was placed in Damen Shiprepair Brest's drydock number 3, one of the largest in Europe at 420 meters, and the relevant manufacturers began immediately on maintenance to her stabilizers, ABB Azipods, bow thrusters and water intakes.
Meanwhile, above the waterline work was going on to install twin exhaust gas cleaning systems (EGCS) which, along with all the pipe and ducting work, involved the removal of two cabins to accommodate the additional equipment. Inside the vessel, the refurbishment included a series of cabins and corridors, along with the ship's spa and part of the retail provision. Ashore, DSBr performed routine maintenance to Queen Elizabeth's lifeboats, liferafts and tenders, and the yard also cleaned and repainted the hull and topsides of the ship.
The project represented a major logistical operation, with multiple third-party teams working alongside the DSBr personnel and each other. In total, around 250 people were at work on the project. Large quantities of materials flowed on board the vessel while substantial amounts of waste came ashore for disposal as the cabins were refurbished. DSBr's experienced project management team ensured that everything went smoothly and that a series of large temporary shelters were available for the contractors' use.
In the event, the program was completed a day early, with Queen Elizabeth back at her home port of Southampton on the morning of November 27th.