Damen Signs with Gerd Stensen for Stan Tug 1606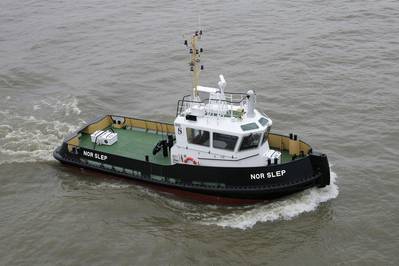 Damen Shipyards Group signed a contract with Gerd Stensen AS from Norway for the delivery of a Damen Stan Tug 1606. The client will apply the new vessel to their dredging operations.
Gerd Stensen, like Damen, is a family company. Their dredging work includes but is not limited to the extraction of coral sand for the French agricultural industry. They have previously operated a Damen Stan Tug 1, still going strong after 36 years and recently sold to a vessel operator in the Baltics.
The order for the new Stan Tug 1606 came about when the client received a new contract for a dredging operation in the north of Norway. The tug will provide support to the dredging operation, maneuvering a pontoon in the Norwegian fjords.
The contract required that Gerd Stensen was able to begin work quickly. Thanks to Damen's practice of building standardized vessels for stock, the tug was quickly available.
Asgeir Stensen, one of the owners of Gerd Stensen AS visited Damen's headquarters in Gorinchem, the Netherlands to see and try out the tug late September 2018. Satisfied with the vessels' performance, they signed a letter of intent the same day.