Damen's Appoints de Leeuw as RoPax Sales Director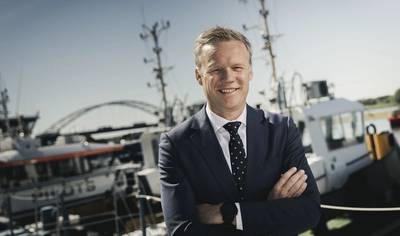 Damen Shipyards Group has appointed Chiel de Leeuw to the newly-created position of Sales Director RoPax, as the shipbuilder makes strides to expand into the design and construction of larger, one-off vessels in the offshore, cruise and RoPax sectors.
In his new role, de Leeuw will be responsible for creating new business in the RoRo and RoPax markets for vessels over 120 meters in length.
The new role was created to allow an experienced individual to focus on these large, bespoke projects over the long term, and to develop a detailed understanding of the top-end of the RoRo/RoPax market.
de Leeuw is a leading authority within Damen on this vessel class having successfully served as sales manager for Western Europe, a role that involved him in a wide variety of ferry projects, and he welcomes this new challenge. As Sales Director RoPax he has now become the public face of Damen within this sector.
Damen believes that the timing is right for a move into the larger RoRo/RoPax market. Analysis by its business development department has identified an anticipated increase in demand for vessels of this size and type in the coming five to 10 years, based on market cycles and new emissions regulations which are leading owners to consider both retrofit and newbuild solutions so as to ensure compliance.
As well as design and engineering capabilities, de Leeuw will have all the resources of Damen's latest acquisition, Damen Shipyards Mangalia in Romania, to offer the large ferry sector. With docks up to 60 meters across and one million square meters of operational space, it is now the largest shipyard in the group and has the resources and infrastructure to undertake the largest and most complex vessels.
"It's very exciting to have started out on this new role," de Leeuw said. "It is a highly competitive market place, but with Damen's exceptional human and physical assets plus a positive outlook for demand in the years ahead, I am very positive that we can bring new ideas and solutions to the sector and generate business."