Oil Removed from Decades-old Swedish Shipwreck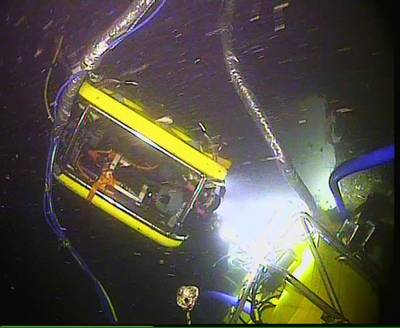 A diving contractor has removed oil from the wrecked research vessel Thetis, more than 30 years after the vessel sank.
When the fishery research vessel Thetis went down into 30 meters of water close to Smøgen on the west coast of Sweden in 1985, it took a substantial quantity of fuel oil down with it. Quantities of the oil later escaped from the wreck and appeared periodically among the skerries on that part of the coast.
Norwegian specialist Miko Marine said it had been asked by the Swedish Sea and Water Authority if its Moskito hull penetration tool could be used to remove any oil remaining in the wreck, but the Oslo-based company was too involved with other projects to bid for the work at that time.
Instead, Swedish dive company Marine Works applied for and won the contract on the basis of using the Moskito electric remotely operated hot tap technology.
The entire remediation work on lasted for 13 working days and was carried out by Marine Works AB with support from Miko Marine AS.
"We are very pleased with the clean-up of Thetis to be seen as a pilot project," said Christer Larsson at the Sea and Water authority. "The method of examining and then cleaning up the wreck by using remote-controlled underwater robots worked and the oil on board was taken care of and no longer poses any environmental risk in this delicate archipelago."
The Swedish Sea and Water Authority has only recently published its conclusions on the Thetis project, the Moskito part of which was completed over two days in December last year.
Two Miko specialists joined the Marine Works dive team aboard their catamaran and took a single Moskito to the wreck located 30-minutes from the port of Kungshamn. Diver surveys had identified the optimum penetration points on the wreck which were cleaned of marine growth by hand and by remotely operated vehicle (ROV) to ensure a secure fixing for the Moskito's three electro-magnetic feet.
Marine Works divers had found substantial openings in the tank filling pipes through which much oil had already escaped. Nevertheless, over the following two days the portside aft tank and the engine room were drilled and the 730 liters of oil that remained was removed from the wreck.
The Moskito system has now been demonstrated on three separate occasions when it has been used to penetrate the oil tanks of a wreck, attach a hose and pump and then extract the oil in a single operation.
Miko Moskitos recently removed 400 metric tons of oil from the wreck of the Thorco Cloud in the Singapore Strait.
Speaking after the completion of the Thetis project, Nicolai Michelsen, general manager of Miko Marine, said; "In addition to the ships and boats that have been lost in recent years, there is a huge number around the coasts of Europe and elsewhere that were sunk during the second world war. Many still have tanks containing heavy fuel oil and after 70-years they are now starting to decay and cause unexpected deposits of oil on nearby coastlines. It took a great deal of research and development work for us to perfect the Moskito but the success of these projects has confirmed our confidence in the technology and that of the clients who have been able to protect their coastlines by making use of it."