Decarbonization, Digitalization Top the Maritime Agenda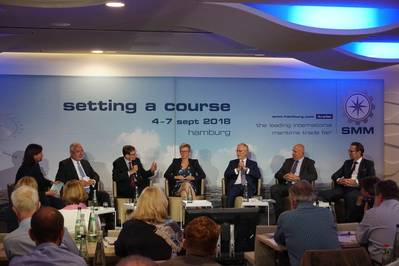 In September, more than 50,000 maritime industry visitors from some 120 countries will come to Hamburg for SMM, one of the world's leading international trade fairs.
Today, representatives from key parts of the maritime sector, from ship owners to shipbuilders, convened in Hamburg to sit on a panel to discuss some of the topics highest on the agendas of industry stakeholders and at the heart of the upcoming SMM.
Bernd Aufderheide, President and CEO, Hamburg Messe und Congress GmbH
Anthony J. Firmin, Chief Operating Officer, Hapag-Lloyd
Kjersti Kleven, Co-owner and Chair of the Board of the Norwegian shipbuilding group Kleven Maritime AS (KLEVEN)
Wayne Jones, Member of the Executive Board – Global Sales & Aftersales MAN Diesel & Turbo SE
Knut Ørbeck-Nilssen, CEO DNV GL Maritime
Dr. Martin Stopford, President, Clarkson Research
Much of the discussion centered on digitalization and decarbonization, two areas stirring big change within an industry grappling with a lingering market recession and new, more demanding environmental regulations.