USS Dubuque Decommissioned After 44 Yrs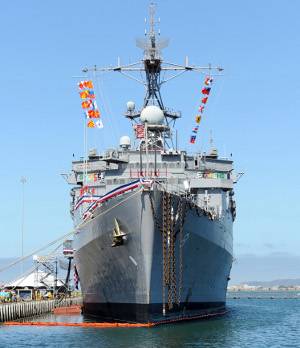 The Austin-Class amphibious transport dock ship USS Dubuque (LPD 8) was decommissioned by the Navy, June 30 at Naval Base San Diego. Retired Navy Capt. Howard J. Ursettie, the first commanding officer of Dubuque, spoke at the ceremony about his time on Dubuque. "The Dubuque was my last sea command and my favorite command," said Ursettie. "At that time she was new and state of the art. I see that she has had more than a few technological upgrades since my time."
In the four decades that the ship has been in active service, thousands of Sailors have served onboard Dubuque.
"Today we are gathered to celebrate 44 years of service of USS Dubuque," said Dubuques final Commanding Officer, Lt. Cmdr.
Ivan Jimenez
. "Or are we here to honor the people who provided the service? With care, countless hours of maintenance, cleaning and preservation they allowed her to remain the great ship that she is. I think it's the latter."
The keynote speaker at the event was commander of Amphibious Squadron 3, Capt. Dale Fuller. He began his speech by thanking the Sailors and Marines of Dubuque.
"I would like to recognize the Sailors and Marines of Dubuque for a great job in getting the ship ready for its transition to inactive status," said Fuller. "They have worked hard for this turnover; they have done a fabulous job in closing up the ship."
He also spoke about the current role of amphibious forces in the Navy.
"We can thank the good Sailors and Marines of Dubuque for the accomplishments that they achieved together in the past two years," said Fuller. "Frankly we have set the stage for how we should train and employ amphibious forces for the 21st century. Dubuque has truly led the way, and her legacy will be felt for years to come."
Dubuque's keel was laid by Ingalls Shipbuilding in Pascagoula, Miss. on January 25, 1965. It was launched on August 6 of that year and commissioned at Norfolk Naval Shipyard in Portsmouth, Va. on September 1, 1967. Dubuque arrived at its first homeport, San Diego in November of 1967.