Coast Guard Breaks Thick Delaware River Ice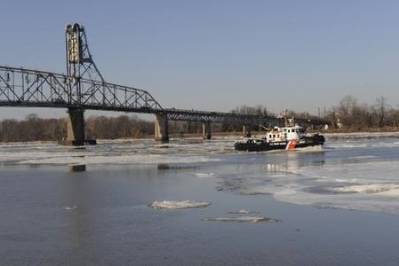 The crews of the Coast Guard Cutters 'Capstan' and 'Cleat' are breaking ice to maintain navigable waterways, encountering significant ice on the Delaware River, up to five feet thick about three miles south of Trenton, N.J.

"The crews aboard the Coast Guard Cutters Cleat and Capstan are working diligently to prevent navigational impacts resulting from ice formation," said Lt. Veronica Smith, chief of waterways managment division at Coast Guard Sector Delaware Bay in Philadelphia.

"Today they went north in the Delaware River to make sure the navigable channel remained open for transiting commercial traffic. We are especially proud and excited to see them performing their primary mission: icebreaking. This is what the cutters are built for. This is what the crews train for."

The Coast Guard adds that the cutters Capstan and Cleet are both 65-foot ice-breaking tugs homeported at Coast Guard Sector Delaware Bay. They are designed to break ice up to 18 inches thick.