Four Escort Tugs Delivered to Star Marine
Four new escort tugs designed by Robert Allan Ltd. and constructed at the Triyards SSY facility in Saigon, Vietnam, by contract to Greenbay Marine Services Pte. of Singapore, have been delivered to owner Star Marine Ltd. of Jeddah, Saudi Arabia.
The four RAstar 3400 escort tugs, named Murjan 1, 2, 3, and 4, will be stationed in the Red Sea port of Rabigh, Saudi Arabia, and managed by Marine Services Co. Ltd.
According to the designer, the RAstar 3400 escort/offshore terminal tug designation is reserved for a distinctive class of high-performance ASD tugs, designed with the unique sponsoned hull form developed exclusively by Robert Allan Ltd., which has been proven in both model and full-scale testing. It provides significantly enhanced escort towing and seakeeping performance. Escort forces are enhanced by the effects of the sponsons, as well as by the prominent foil-shaped escort skeg forward. This combination also reduces roll motions and accelerations to less than half those of comparable sized "standard" wall-sided tug hulls.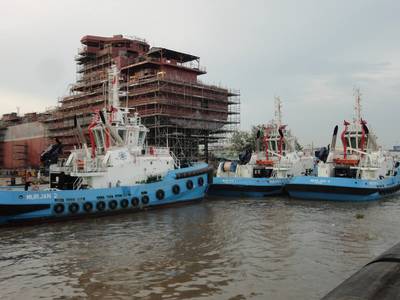 (Photo: Robert Allan Ltd.)
These particular vessels were designed to the following Bureau Veritas class notations: BV 1 ✠ HULL, Escort Tug, ✠ MACH, Fire-Fighting Ship 1 water spraying, Unrestricted Navigation ✠ AUT-UMS
Length overall: 34 m
Beam, molded, extreme: 13.5 m
Depth, molded (hull): 6.18 m
Maximum draft: 5.71 m (to bottom of the skeg)
Fuel Oil: 180 m3
Potable Water: 70 m3
Foam: 20 m3
Dispersant: 20 m3

On trials, the vessels exceeded all performance expectations, with the following results:
Bollard pull ahead (100 percent MCR): 73.8 metric tons
Bollard pull astern (85 percent MCR): 66.1 metric tons
Bollard pull astern (100 percent MCR): 71.5 metric tons
Free running speed ahead: 14.1 knots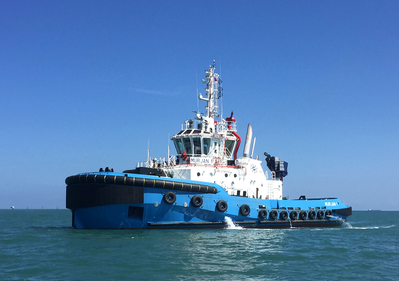 (Photo: Robert Allan Ltd.)
The vessels have been arranged and outfitted to a very high standard, with facilities for up to 10 officers and crew in fully air-conditioned accommodation. A well-appointed mess/lounge and a modern fully-equipped galley are located on the main deck, as are the Master and Chief Engineer cabins. Three double cabins and two single cabins are located on the lower accommodation deck, and a walk in provision store and laundry space occupy the lowest deck, where access is also gained to a domestic machinery / bow thruster room.
Deck machinery is powered by an HPU located in the Engine Room, and powers a pair of DMT winches; a double drum ship-assist/escort synthetic hawser winch forward, and a single drum towing winch fitted with 850 m of SWR, on the aft deck. Two of the four vessels also have Palfinger knuckle boom crane's installed on the Port side with a lifting capacity of 10 metric tons at 4 m. The other two vessels have identical pedestal / foundation's fitted for a crane installation of up to 49 metric-ton-meters.
The wheelhouse is designed for maximum all-round visibility with a forward control station providing maximum visibility to both fore and aft deck working areas.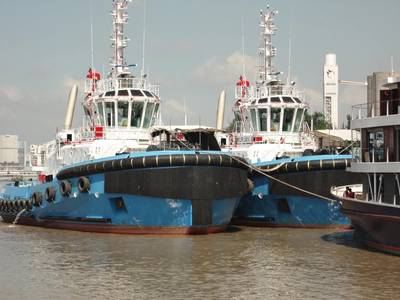 (Photo: Robert Allan Ltd.)
Main propulsion for each tug comprises a pair of Wartsila 8L26 diesel engines, each rated for 2,610 kW at 1000 rpm, but limited to match the Schottel, SRP 1515 controllable pitch azimuth-drives.
The electrical plant comprises of two identical MAN diesel gen-sets, with a power output of 300 ekW. The fully automated switchboard – located in an air conditioned control room – is also fitted with the facility for shore power distribution (100 A), and a harbor generator with power output of up to 140 ekW. The bow thruster – tunnel installed, but unit not fitted – is electric and rated for 200 kW.
The fender arrangement is extensive with a cylindrical fender on the bow, augmented by a 480x300 mm "W" fender below. 300x300 mm hollow "D" fender provides protection at the water line, main, and foc'sle deck sheer lines, and a 480x300 mm "W" fender is used at the stern. Each vessel is also fitted with a streamlined 480x300 mm "W" fender mounted on a low down push knee for handling low freeboard coastal vessels and oil barges.
The vessels are installed with SOLAS rigid hull rescue boat, life rafts, H2S gas detection system and external fire-fighting, with additional drenching system and foam. The vessels are also fully capable of supporting oil spill response.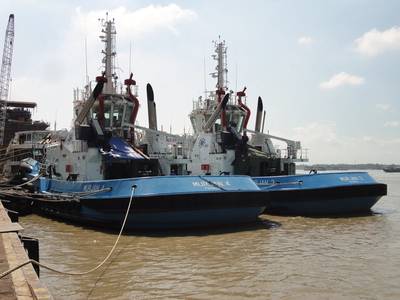 (Photo: Robert Allan Ltd.)