New Ferry MV Woods Hole Delivered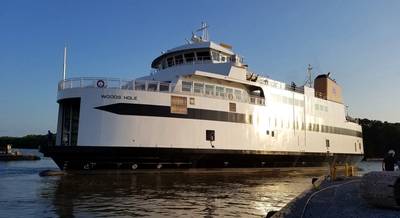 The newly built ferry M/V Woods Hole has been delivered to serve Woods Hole, Martha's Vineyard and Nantucket.
Built by Conrad Industries of Morgan City, La., the
Elliott Bay Design Group
(EBDG) designed ferry is the naval architects' second design for The Steamship Authority. EBDG's scope for the project included extensive concept design, which proceeded to a design validation with CFD and towing tank development of the hull form, propulsion selection studies and passenger egress validation from the evacuation system. EBDG's support included a parking lot validation study, shipyard bid evaluation, technical liaison during construction, and coordination with the
U.S. Coast Guard
, both local sector and MSC.
The
Woods Hole
is a 235' single-ended ferry with a bow thruster and a service speed of 14.5 knots. The vessel is designed to be primarily a "super freight boat" that, when not carrying a full freight load, also serves as a passenger and car ferry carrying up to 384 passengers and 55 cars. The boat is capable of carrying 1 million pounds of tractor trailer freight within hard constraints of maximum draft, length and beam. Freight deck loading and unloading is very efficient.
Operating environment requirements drove many of the design features. Shallow water turbulence and bottom scouring is a factor for several of the ports, so this vessel incorporates controllable pitch propellers to minimize propeller wake wash when accelerating. High lift rudders and a directionally vectorable bow thruster enable tight maneuvering, and the vessel can turn in its own length. Noise mitigation was also given high priority, and it is noticeably quieter both on board and on shore.
Upon the vessel's delivery, Brian King, EBDG's Vice President of Engineering and Project Manager for this effort, said, "It was a great project to participate in during the construction. The on-site
Steamship Authority team
, Conrad, and EBDG were all working together with common purpose. Conrad's depth of experience, attention to detail, and pride of workmanship was evident throughout. I couldn't be more pleased with how well they translated our design into reality."