Wind Farm Vessel Delivered to Mainprize Offshore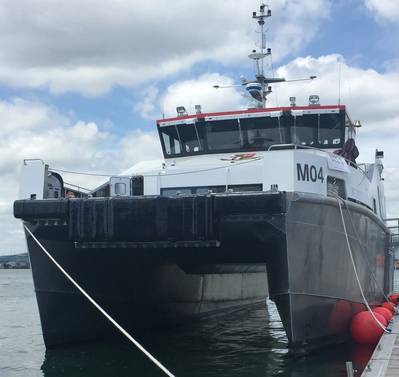 Aluminium Marine Consultants informs it has handed over MO4 to Mainprize Offshore this week for work as a wind farm support vessel carrying both cargo, equipment and personnel out of the port of Hooksiel to the German wind farm sector on an eight-year contract with Deutsche Windtechnik on the Nordergründe wind farm.
Mainprize Offshore's Bob Mainprize commented, "We chose Aluminium Marine Consultants because of their flexibility and the company's attention to detail and workmanship, this now means that MO4 will start to pay back four months earlier than any other builder could offer."
MO4 took a break from sea trials to attend Seawork where she showed off her expansive deck and cabin area, with the ability to increase to 24pax. She would require a small alteration that has been designed into the construction and layout of the saloon. Therefore, a quick and simple change over to 24pax-a joint venture approach between Mainprize offshore, AMC and Walker Marine Design to ensure all regulations were covered in full.
With huge amounts of deck space both fore and aft MO4 can carry up to 30,000 liters of fuel or 20,000 liters of water and has provision for 4 x 20' containers and 30t of deck cargo, and has been designed for shallow water work with a 1.4m draft.
MO4 is fitted with twin Caterpillar C32 diesel engines driving fixed pitch propellers that gives the vessel a service speed of 26 knots, even when fully loaded.
Mainprize added, "On trials, following some fine tuning she reached a top recorded speed of 30.7kts with 12T of fuel and payload."