160th Ship of Mitsui's 56 Series Delivered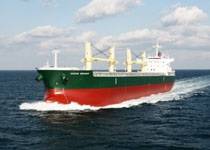 Mitsui Engineering & Shipbuilding Co., Ltd. (MES) completed and delivered a 56,000 dwt type bulk carrier M.V.Ocean Bright (MES Hull No. 1848) at its Tamano Works on August 7, 2013 to Mingtai Navigation Co., Ltd., Taiwan.

This vessel is a handy-max type bulk carrier of 56,000 dwt with a large cargo hold capacity over 70,000 m3 and marks the 160th ship of its series.

Principal Particulars
Length overall: 189.99 m
Length (between perpendiculars): 182.00 m
Breadth (molded): 32.25 m
Depth (molded): 18.10 m
Gross Tonnage: 31,756
Deadweight: 56,032 metric tons
Main Engine: MITSUI-MAN B&W Diesel Engine 6S50MC-C x1set
Maximum Continuous Output: 9,480 kW x 127.0rpm
Service Speed: about 14.5 knots
Complement: 24 persons
Classification Society: NK
Flag: Panama
Date of Delivery: August 7, 2013

Special Features
According to the builder, the vessel is designed to have the following same features as "Mitsui 56": good manageable size of 56,000 dwt at the summer draft, length and draft in consideration for accessibility to world main ports.\ and low fuel oil consumption based on good propulsive performance.

The vessel has five cargo holds and four cranes for handling cargo. To load various kinds of cargo, the vessel is designed to have enough strength of tank top of cargo holds and to be suitable for efficient cargo handling. The size of hatch opening is the largest for this type of vessel in terms of both length and width, each cargo hold has a sufficient clear length in order to load long pipes and Cargo hold is well strengthened to load heavy cargo such as hot coil etc.

Main Engine is Mitsui-Man B&W Diesel Engine 6S50MC-C, which is a light, compact and high output engine complying with MARPOL NOx restriction for exhaust gas. It has good enough power margin to provide a high degree of flexibility (at normal service output = 75% maximum continuous output) and the lowest fuel oil consumption shall be realized by the optimum matching at normal service output.

Ballast water can be changed during navigation for protection of marine environment.

Generator engines also comply with MARPOL NOx restriction for exhaust gas.