CTruck Offshore Wind Farm Support Vessel Delivered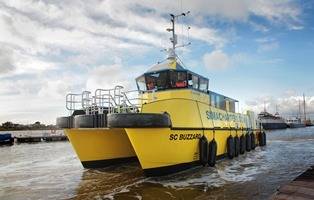 Dutch-owned Sima Charters takes delivery of the latest vessel to join its fleet, a CTruk 20T multi-purpose catamaran, 'SC Buzzard'.

Sporting Sima Charters' eye-catching yellow and blue livery, SC Buzzard is the tenth vessel to be completed at the Brightlingsea yard in two years.

SC Buzzard was officially named at an informal gathering in Brightlingsea recently. She features the patent-applied flexible pod system developed by CTruk to enhance versatility as well as a large volume fuel transfer system. The 18.5m catamaran is likely to start her working life in UK waters, possibly moving on to Belgian or German offshore projects next year.

The relationship between Sima Charters and CTruk had an interesting start: CTruk chairman Andy White recalls being out with friends on a sailing smack near Gunfleet Sands wind farm in 2009 when a Sima Charters vessel passed them, knocking the wind from their sails. Intrigued as to why there were no locally-built and operated vessels at work in this burgeoning industry, Andy later founded CTruk Boats on the site of the old Aldous shipyard in Brightlingsea, bringing the town's shipbuilding heritage back to life.

It is testament to CTruk's continued effort to improve on the current market offering that Sima Charters later contacted the company in 2011 and ordered one of their 20 tonne payload multi-purpose catamarans to join its growing fleet.