VLOC Delivered to Oman Shipping Co.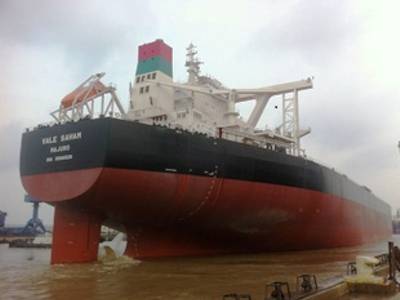 Oman Shipping Company (OSC) has taken delivery of its third Very Large Ore Carrier (VLOC) 'Vale Saham' in China.
The giant bulk carrier will be used to transport iron ore from Brazil to Sohar, Oman. OSC has one more vessel of its class under construction at Jiangsu Rongsheng Heavy Industries Company in Nantong in China.

Vale Saham, the new Rongsheng-built VLOC delivered to OSC adopts an environmentally friendly design to lower oil consumption and reduce the emission of CO2, while its operating efficiency exceeds that of most existing ore carriers. With Energy Efficiency Design Index recorded at approximately 1.99 during sea trials, Rongsheng-built VLOCs are in line with low-carbon green product initiative and meets the benchmark requirements on emission reduction set by the International Maritime Organization, which came into effect on 1 January 2013.
Since the launch of the commercial operation of OSC in 2003, the company increased its fleet to 43 vessels, including taking delivery of 17 vessels in 2012. In addition, the Company has one VLOC and one LNG carrier still under construction increasing the fleet to 45 vessels and around 8 million deadweight tonnes by 2014 once the remaining vessels have been delivered.