Crew Transfer Vessel Delivered to Targe Towing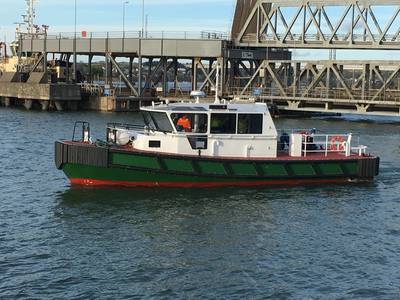 Welsh workboat builder Mainstay Marine said it has delivered a newly built 15-meter crew transfer vessel to Scottish tug operator and owner Targe Towing.
The Camarc designed vessel is constructed with a steel hull and aluminum superstructure. It sails at speeds in excess of 15 knots and has a bollard pull of 6 metric tons. Compliment is for two crew and 12 passengers.
Targe Towing provides dedicated towage for
north east Scotland ports
including BP's Hound Point Marine terminal on the Firth of Forth. Its new vessel has been operating for two months alongside oil terminal platforms on the
east coast of Scotland
in swell conditions of up to 2 meters in wave height.
"After being awarded an extension to our contract with BP, we went to the market for a new crew vessel," said Tom Woolley, Managing Director at Targe Towing. "We looked at facilities in Turkey and Holland, but Mainstay's base in Pembroke Dock were outstanding."
The contract is the latest win for Mainstay, which now employs 80, with 10 percent of the direct workforce consisting of apprentices. The firm said its turnover has increased from just under £4 million ($5.2 million) to more than £5 million ($6.5 million) during the last 12 months.