Meyer Turku Delivers for TUI Cruises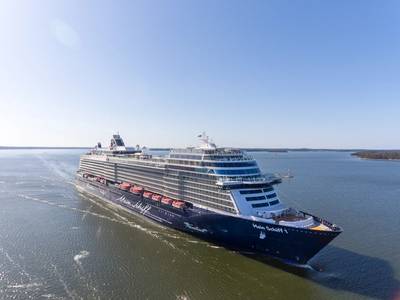 TUI Cruises' new 315 m flagship was delivered today from Finnish shipbuilder Meyer Turku.

The fifth Mein Schiff cruise ship to be built by Meyer Turku for German owner TUI Cruises, the new Mein Schiff 1 is based on a new design created as an evolution from the existing Mein Schiff series.

The builder's architecture and engineering team, working together with TUI Cruises and its architects, used the previously delivered Mein Schiff 3 and Mein Schiff 4 as a starting point when beginning to work on the Mein Schiff 1 design in 2015. The outcome was a 20m lengthened ship combined with a substantial redesign of the passenger spaces and a number of new features like the new Diamond, which now spans the almost 50m breath of the ship, a sun deck area, a covered sports center, and an elevated jogging track with a spectacular view.

Meyer Turku CEO, Jan Meyer, said, "The impressive new 50m wide steel and glass window structure that makes up the new Diamond at the aft of the ship just above the propellers is a good example how we combine architectural design with our engineering skills supported by sophisticated computer models."

"Innovations, strengthening our Turku team and our 200 million Euro investments in Finland well in advance are our way to compete with our mostly government owned and supported competitors," the Meyer Turku CEO added.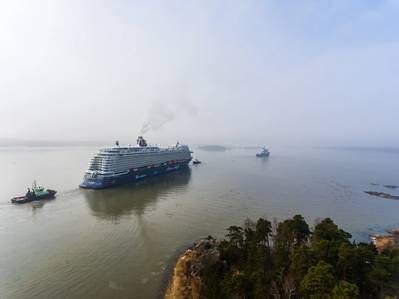 (Photo: Meyer Turku)
Environmental friendliness was also in focus during the Mein Schiff 1 design as each Mein Schiff vessel takes another step forward in improved energy efficiency, the shipbuilder noted. Engineered for a 10 percent energy efficiency improvement compared to last year's Mein Schiff 6, Mein Schiff 1 is one of the first cruise ships to be equipped with catalytic converters for the main and auxiliary engines, reducing nitrogen oxide emissions.

From Turku, the new Mein Schiff 1 will sail to Hamburg to be christened there on May 11 before commencing operations shortly thereafter.

At the shipyard, new Mein Schiff 2 is already under construction, and TUI Cruises recently ordered a third sister ship to New Mein Schiff 1 & 2 for delivery from Turku in 2023, which will be called Mein Schiff 7.

"On our 10th anniversary, we are giving ourselves and our guests the gift of a new Mein Schiff 1, which marks the starting point for a new generation of ships," said TUI Cruises CEO, Wybcke Meier. "We will proceed with this expansion over the next year with the new Mein Schiff 2. In 2023, the Mein Schiff 7, another ship in this class, will continue the trend."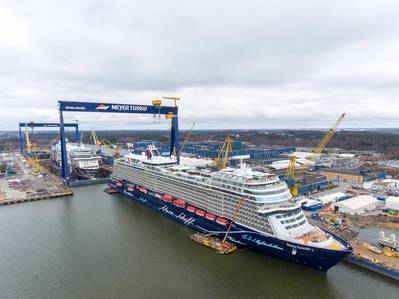 Mein Schiff 1 at the Meyer Turku shipyard with Mein Schiff 2 under construction in the background (Photo: Meyer Turku)