Horizon Delivers M/V Capt. Kirby Dupuis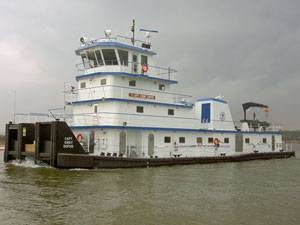 Horizon Shipbuilding, Inc., Bayou La Batre, Ala., has delivered the M/V Capt. Kirby Dupuis to Florida Marine Transporters of Mandeville, La. She joins her sister ship, the M/V Capt. W. D. Nunley in pushing cargoes throughout the inland waterways of the United States.
The M/V Capt. Kirby Dupuis, designed by John Gilbert, is a 120 ft long by 35 ft wide, 10 ft draft, towboat vessel that is four-decked and is outfitted for service in areas restricted to overhead clearances and draft limitations. She is powered by two 2,000 hp 3512C Caterpillar engines, provided by
Louisiana Machinery
, that are coupled to Twin Disc MG5600 reduction gears with a 5.04:1 ratio, supplied by Sewart Supply. They turn 100-inch five-blade, stainless steel wheels made by Sound Propeller, on ten-inch shafts. Auxiliary power is supplied by two 175 kw Caterpillar C9 generators. The M/V Kirby Dupuis is an open-wheel boat that holds 58,000 gallons of fuel.
The next vessel in the 120 ft series will be a 5,000 hp boat with Kort nozzles. Travis Short, Horizon's president, expressed his appreciation for the continued working partnership with FMT in these tough economic times.