N-KOM delivers First Newbuild Liftboat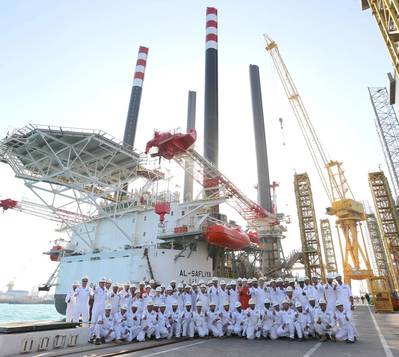 Nakilat-Keppel Offshore & Marine (N-KOM) reports that it has delivered its first liftboat unit, Al Safliya, to Qatari rig operator Gulf Drilling International (GDI).
Al Safliya is the first liftboat to be wholly constructed in Qatar at the Erhama Bin Jaber Al Jalahma shipyard The self-propelled and elevating unit has been customized for operations in the Middle East and
North Africa
(MENA) region in water depths of up to 65m.
"GDI is pleased with the quality delivered by N-KOM for the liftboat Al Safliya," said Mubarak Al Hajri, the MD & CEO of GDI. "GDI is also proud of signing its first Liftboat Services contract with Dolphin Energy, we are determined to continue this success that has been achieved in order to support the expansion of GDI business, we have been seeking to develop the liftboat segment of the business for several years and it is exciting to finally achieve this breakthrough. We welcome the opportunity to work with a prestigious customer like Dolphin Energy and look forward to having a long and mutually successful partnership."
Al Safliya liftboat is equipped with four tubular legs, a unique 200 tonne leg encircling crane and a 50 tonne pedestal crane, a large open deck space of around 800 sqm, a helideck, and accommodation capacity for 130 persons. It can undertake a wide range of services such as well servicing, commissioning, maintenance and decommissioning of offshore platforms. The liftboat also allows for a specially designed gangway bridge to be used for emergency and other safety purposes.