Almar, North River Boats Delivers Fire Boat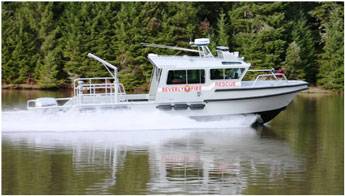 Almar by North River Boats Inc. of Roseburg, Ore. announced the recent delivery of a 30-ft by 10-ft Sounder / Fire Boat. This boat was built to NFPA 1925 standards and the fire suppression system was UL Certified prior to delivery.
The boat is equipped with twin Honda 225 hp four stroke outboards for its main propulsion system and powers the 30-ft vessel at greater than 32 knots. A single 200 gallon fuel tank supplies the propulsion engines, fire engine and genset.
A raised aft deck provides ample working area for the crew and houses the 8.1L 375 hp engine and 1,500 gpm Darley fire pump. Three hand line connections are installed at the stern of the vessel and provide options for 2.5-inch and 1.5-inch outlets with quick connect attachments. The Deck Master monitor is remotely operated from the passenger helm. UL Certification for the fire suppression system provided a total UL Rating of 1501 GPM at 150 PSI.
Three-inch D Bumper material along with additional fendering was provided for additional hull protection. A davit and hinged dive door will help aid in recovery and dive operations.
A 7.3 kw
Kohler genset
provides 120 VAC to the vessel allowing the fire department the ability to stay on station longer. A complete electronics suite was installed by North River including: Furuno 1834 C/NT Nav Net II with 4kw radome, Furuno DFF1 Sounder, Furuno thru hull transducer mounted in custom sea chest, Furuno GPS, EPIRB, Whelen emergency light bar and Siren, Fire Com intercom system,
Motorola
VHF and UHF radios and a FLIR Navigator II.
North River Boats, Inc. is a builder of heavy gauge aluminum recreational and commercial boats in Roseburg, Ore. They build boats ranging from 20-ft up to 43-ft in length. Popular commercial models include: Sounder, RAIV, Hybrid RAIV, Landing Craft, Cathedral and Pilot.