Robert Allan Delivers Two RAmparts 3200 CL Tugs to Ocean Sparkle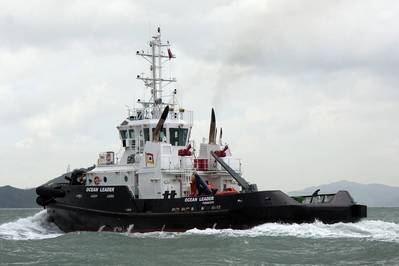 In 2011, Ocean Pioneer and Ocean Perfect, the first two RAmparts 3200 CL tugs developed by Robert Allan exclusively for Cheoy Lee Shipyards, Hong Kong were delivered to Ocean Sparkle Limited, the largest Indian tug owning and operating company with more than 80 tugboats under its fleet.
Since then, 33 sister tugs of this CL series have been constructed by the same builder for their clients around the world. It is very rewarding to see Ocean Sparkle Limited returned to Cheoy Lee Shipyards, ordering two more units of the same series of this constantly improving design from this highly experienced and competent shipbuilder.
The two newly built tugs, Ocean Leader and Ocean Legacy left Hong Kong for their home port of Mumbai recently. They are scheduled to be deployed at an LNG terminal in India. The two new tugs were designed and constructed to Lloyds' requirements.
The accommodation, deck machinery layout, safety equipment arrangement, etc. are laid out to suit the operator's specific needs, Flag regulations including ILO MLC 2006 requirements.
Main propulsion comprises a pair of Niigata 6L28HX diesel engines, each rated at 1838 kW at 750 rpm, and each driving a Niigata ZP-41 fixed pitch with high grade nozzle Z-drive unit, in ASD configuration.
The electrical plant comprises two (2) identical diesel gen-sets, each with a power output of 2 x 120 ekW. A harbour gen-set with a capacity of 50 ekW is also fitted in the engine room.
Fire-fighting monitors are located on the deckhouse aft, providing "off-ship" fire-fighting service Ship-handling fenders at the bow consist of two rows of 800 x 400 cylindrical fenders at the main deck level, with a 480 x 300 mm "W" block fender below. A 300 x 300 hollow "D" fender provides protection at the main deck sheer line and along the knuckle, and 500 x 450 mm "W" block type fendering is used at the stern.