Peene Delivers Vessel to Swedish Coast Guard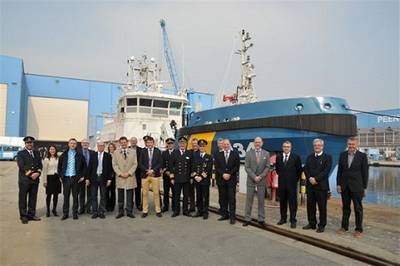 The Peene shipyard in Germany successfully completed a new series that was part of an order obtained during insolvency. The coast guard vessel (Kustbevakningen Vessel) KBV 034 was handed over to the Swedish Coast Guard, with a reflagging ceremony at dock 2 of the Peene shipyard in Wolgast, Mecklenburg-Western Pomerania. The Swedish Coast Guard originally placed the order for a total of four new coast guard vessels in 2008.Two of the coast guard vessels were already delivered in June and July of 2012.

After the Peene shipyard filed for insolvency, that contract had to be reaffirmed. The new contract for the completion of the two remaining vessels in this series was negotiated with the Swedish Coast Guard by Dr. Tobias Brinkmann of insolvency administrators Brinkmann & Partner and Axel Schulz of P+S Werften GmbH. The contract was signed in November 2012. The first coast guard vessel in connection with this new contract, the KBV 033, was handed over by the Peene shipyard in February of this year. During Kustbevakningen's reflagging ceremony, attended by the Swedish client as well as by the shipyard's management and employees, the Swedish flag was raised on the final vessel in this series.

After the reflagging, the vessel will remain in Wolgast for a few weeks while crews undergo extensive training. After that, the new vessel is expected to leave the Peene shipyard outfitting dock in June and head for its future home port of Helsingborg in southern Sweden.