Fugro Take Delivery of New Offshore Survey Vessel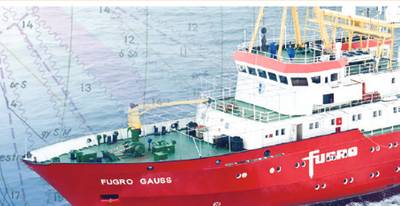 Fugro's new offshore survey coastal vessel, 'R.V. Fugro Helmert', is the latest in Fugro's fleet renewal programme.
Built to Fugro's specifications for a highly manoeuvrable, versatile survey vessel, Fugro Helmert is intended to enable the group to better respond to the survey needs of offshore wind energy projects, offshore cable and pipeline corridor design and nautical hydrographic charting programmes to aid safe navigation.
The 41.5 metre-long vessel has dynamic position station-holding capability (DP1) and is equipped with a sophisticated suite of modern handling and surveying systems, placing it at the leading edge of purpose-built survey vessels of this type. Overall vessel positioning includes Fugro proprietary satellite positioning systems as well as sources for precise motion, heading and positioning data. All acquired data can be processed on-board and transferred via VSAT worldwide.