DEME DP2 Jack-up Vessel Named 'Apollo'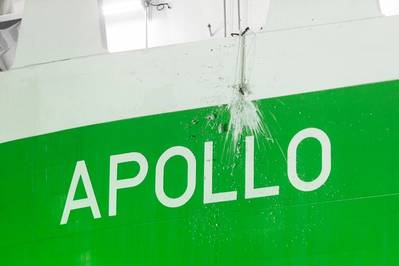 The Belgian dredging and hydraulic engineering group DEME NV said that its newest, self-propelled DP2 jack-up vessel 'Apollo' was officially named in the port of Zeebrugge, Belgium on February 21.
The ceremony was performed by Olympic, World and European Champion heptathlon Nafi Thiam, according to a press release.
One of the exceptional features of the 'Apollo' are its extremely long lattice legs of 106.8 m, which allow the vessel to jack-up in water depths up to 65 m. The vessel is equipped with an 800-tonne, leg-encircling crane and has an unobstructed, spacious 2000 m² deck with a load carrying capacity of 15 t/m².
"We are truly honored to have heptathlon champion Nafi Thiam as the godmother of our newest vessel," says Hugo Bouvy, Managing Director of DEME Offshore.
"Being a champion in the seven disciplines of the heptathlon are a real test of strength, endurance and versatility. These are features we also recognize in the vessel and crew of 'Apollo'. This versatile vessel will serve the offshore wind industry, but will also provide services to the oil and gas industry, with a particular focus on the installation and decommissioning of platform facilities," Hugo added.
DEME has a full orderbook for 'Apollo' with a variety of projects in both the renewables and oil and gas market. The vessel will now be mobilised for pre-piling works at the Moray East offshore wind farm in the UK.