CFPA Demonstrate that Experience and Investment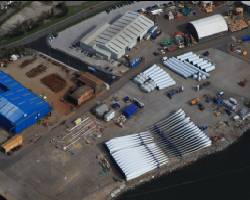 With the advancement of ground-breaking innovation in the renewable marine energy industry, the Cromarty Firth Port Authority has had the opportunity to demonstrate that everything is possible and there is nothing that cannot be achieved via the facilities in the Firth.

For many years, the Cromarty Firth has been recognised worldwide as a hub for Inspection, Repair and Maintenance of oil rigs and subsea engineering; however the growth of the renewable energy industry has seen the area and the Invergordon Service Base, become a major service facility for the renewables industry.

The Invergordon Service Base hasalready established a reputation for excellence in the handling and deploying of onshore turbines, having already handled over 180 complete units.

Today this experience extends to offshore wind and wave, with a track record which includes thesuccessful completion of the assembly and shipping services on two experimental 5 MW turbines for the Beatrice field, and new generation wave and tide energy devices – the Atlantic, the Oyster, Powerbuoy ® and the Open Hydro Scheme. The Powerbuoy, designed for utility-scale wave energy farms,only recently departed from the Invergordon Service Base.The device is designed for utility-scale wave energy farms worldwide and the tempestuous waters off the Scottish coast make an ideal testing ground.The Powerbuoy ®, PB150, is the largest and most powerful designed to date by Ocean Power Technologies (OPT) and with a peak rated power output of 150KW, would produce enough energy to supply 150 homes.

Chief Executive and Harbour Master for the Cromarty Firth Port Authority, Captain Ken Gray, said "We are delighted that so many organisations have started to choose the Invergordon Service Base and the Firth, withits locally based, internationally recognised, highly skilled companies for the fabrication and assembly of ground breaking wave and wind technology. "

The Port is situated in deep, very sheltered waters andgeographically ideally positioned close to the tempestuous waters off the North-Eastern Scottish coastline, ideal as a testing ground.Ken continues, "The Port and the Service Base also happen to be the closest facility to the Round Two and Three Beatrice Wind Farms and in order to be ready to meet the requirement of this growing sector, we haverecently concluded a programme of investment and upgrade of facilities. We have also embarked on a 20 year master plan, to ensure that facilities are ready to meet demand."

Ken concludes, "the main message to take from our proven track record is this: the Invergordon Service Base and the Cromarty Firth can safely and successfully meet all your renewable energy project requirements."

Today, the Cromarty Firth is poised to become a major contributor to Scotland's aim of generating 80% of its energy requirements from renewable resources by 2020.

Cromarty Firth Port Authority will be attending this year's All Energy exhibition in Aberdeen, Stand number J15, on 18/19 May, where their experience and expertise will be on display.

Source: www.cfpa.co.uk