RIBCRAFT Delivers Boat to Decatur Police Department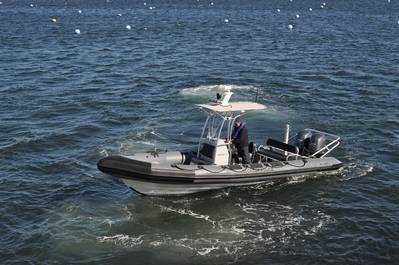 RIBCRAFT, manufacturer of professional grade rigid inflatable boats (RIBs) for safety professionals, law enforcement, and military agencies, announced the delivery of a specialized RIBCRAFT 7.8 to the City of Decatur, Alabama for patrol and enforcement operations.
The 25' purpose built mission specific RIB will be used by the Decatur Police Department for tactical operations and on water patrols. Located on the Tennessee River with several chemical companies on the shoreline, the new RIB will enable Decatur Police to fulfill technical rescue and hazardous materials mitigation. The boat will also complete search and rescue and boat assistance duties on the river, which is home to a growing number of recreational boating activities and special events.
Featuring a center console with a front bench seat, leaning post, custom aft seating and tow post, the 7.8 provides a large open deck to support the Department's operational requirements. Equipped with twin Yamaha 150HP engines, the RIB reaches speeds in excess of 50mph.
Decatur's 7.8 also features CBRN capabilities (Chemical, Biological, Radiological, and Nuclear) for an advanced defense strategy. The CBRN detection sensor allows the department to take protective measures in situations where any of these four hazards are present. CBRN defense consists of passive protection, contamination avoidance and CBRN mitigation.