Dock Landing Ship 'USS Tortuga' Leaves for Spring Deployment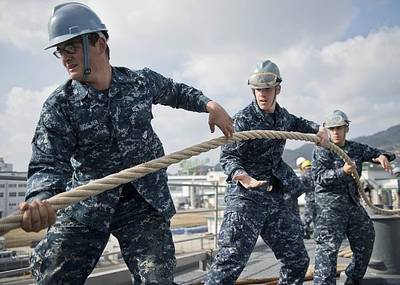 The first Amphibious Ready Group (ARG) landing ship 'USS Tortuga' leaves homeport for deployment in the 7th Fleet's area of responsibility.

The forward deployed Whidbey Island-class dock landing ship USS Tortuga (LSD 46), part of the Bonhomme Richard ARG, dsparts its homeport, for its spring deployment in the 7th Fleet Area of Responsibility.

Tortuga will take part in an Amphibious Integration Training (AIT) and Certification Exercise (CERTEX), participate in the annual multinational combined joint training exercise Cobra Gold, and conduct various other exercises.



AIT and CERTEX are training exercises focusing on the ARG and 31st Marine Expeditionary Unit (31st MEU) amphibious assault capabilities, humanitarian assistance capabilities, disaster relief operations, and non-combatant evacuation missions. 

Cobra Gold is an annual U.S and Kingdom of Thailand sponsored joint, multinational exercise intended to demonstrate the ability to rapidly deploy a joint task force to conduct combined operations at sea and ashore.



Tortuga is the first of three ships to get underway. The USS Bonhomme Richard (LHD 6) and USS Germantown (LSD 42) are also scheduled to participate in the exercises and are due to depart and meet up with Tortuga at a later date.