Budget Worries Delay U.S. Carrier Group Deployment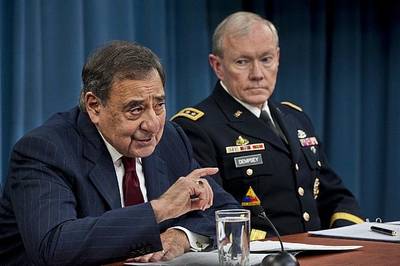 The Secretary of Defense delays the scheduled deployment of 'USS Harry S. Truman' & 'USS Gettysburg'.
The affected ships have begun formally notifying the men and women of the Harry S. Truman Carrier Strike Group (HST CSG) that they will not be deploying.


"Facing budget uncertainty - including a Continuing Resolution and the looming potential for across-the-board sequestration cuts - the U.S. Navy made this request to the Secretary and he approved," said Pentagon Press Secretary George Little in a released statement. "This prudent decision enables the U.S. Navy to maintain these ships to deploy on short notice in the event they are needed to respond to national security contingencies," said Little.
In a meeting with reporters, Defense Secretary Leon E. Panetta and Army Gen. Martin E. Dempsey, chairman of the Joint Chiefs of Staff, addressed the looming crisis. The cuts - known as "sequestration" - will take place unless Congress acts to override the provision built into budget law that would mean cutting $52 billion from the defense budget by Sept. 30.

"This is not something that should be done as a way to blame the other party for what happens," Panetta said. "This is going to hurt the United States and hurt our defense."


In order to remain ready and capable to deploy, the Strike Group will conduct underway evolutions and maintain proficiency until a future deployment date is announced.


HST CSG consists of approximately 5,000 Sailors and Marines, including coalition Sailors. Deploying units include Commander, Carrier Strike Group 10; USS Harry S. Truman (CVN 75); German frigate FGS Hamburg (F220); guided-missile cruiser USS Gettysburg (CG 64), and 1st Combined Destroyer Squadron.