Derecktor Shipyard Named Licensed Damen Builder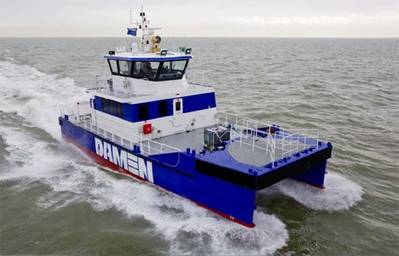 Damen licenses another U.S. shipbuilder
Robert E. Derecktor Inc. and
Damen Shipyard Group have
entered into a license agreement authorizing Derecktor to act as an official builder of Damen designs.
The agreement will see Derecktor offer its customers pilot boats and wind farm support vessels combining the range and international experience of Damen designs with its own American craftsmanship, which Derecktor says creates an innovative, cost-effective experience for its customers, with proven performance and reliable U.S.-based support and maintenance.
The core vessels of Derecktor's exclusive H Series are designed by Damen, but customized by Derecktor to include U.S. components, modular propulsion units and enhanced personnel transfer systems, the shipbuilder noted.
The agreement also provides for Damen Technical Cooperation Services, including personnel for the onsite management and supervision of construction projects.
All of the technology and know-how of Damen, including drawings, specifications and design information, is now at the fingertips of Derecktor for the benefit of its U.S. customers.