Ingalls Launches US Navy Destroyer Ralph Johnson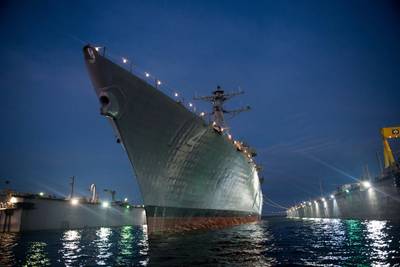 Ingalls Shipbuilding Launches Arleigh Burke-Class Destroyer Ralph Johnson (DDG 114)
Huntington Ingalls Industries' (HII) Ingalls Shipbuilding division launched Ralph Johnson (DDG 114), the company's 30th Arleigh Burke-class (DDG 51) guided missile destroyer, on Saturday.
DDG 114 is named to honor Pfc. Ralph Henry Johnson, who was awarded the Medal of Honor for his heroic actions that saved others during the Vietnam War. Johnson shouted a warning to his fellow Marines and hurled himself on an explosive device, saving the life of one Marine and preventing the enemy from penetrating his sector of the patrol's perimeter. Johnson died instantly. The Charleston, S.C., native had only been in Vietnam for two months and a few days when he was killed at the age of 20.
On April 20, 1970, President Richard M. Nixon posthumously awarded the Medal of Honor, the highest recognition and honor a member of the United States military can receive. On Sept. 5, 1991, 23 years after his heroic act, the Veterans Hospital in Charleston was renamed the Ralph H. Johnson Veterans Hospital.
In September 2014, Georgeann McRaven, ship sponsor and wife of retired Adm. William McRaven, former commander, U.S. Special Operations Command, attended the
Ralph Johnson keel
laying and proclaimed the ship to be "truly and fairly laid."
According to the shipbuilder, the highly capable, multi-mission ship can conduct a variety of operations, from peacetime presence and crisis management to sea control and power projection, all in support of the United States' military strategy. Arleigh Burke-class destroyers are capable of simultaneously fighting air, surface and subsurface battles. The ship contains myriad offensive and defensive weapons designed to support maritime defense needs well into the 21st century.