EU NAVFOR Destroys More Pirate Groups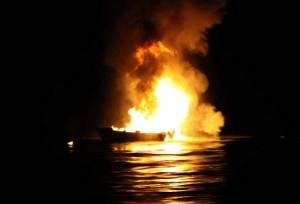 On March 12, after receiving a report from MV E.R. Lubeck (Liberian Flag, German owner), that pirates in two skiffs had tried to hijack her, COMEUNAVFOR initiated a surge operation to intercept and disrupt the pirate action group (PAG).

The EU NAVFOR Flagship ITS Etna tasked the EUNAVFOR Swedish and Luxemburg Maritime Patrol Aircraft (MPA) and EUNAVFOR Warship HNLMS Tromp against the PAG consisting of one mother skiff and two skiffs.

The attack on the Lubeck took place almost one thousand miles from the Somali coast and HNLMS Tromp proceeded at best speed to assist. The EU NAVFOR MPA continued to track the PAG and vectored the warship onto the suspected pirate position.

On the March 14, on arrival at the scene of action, HNLMS Tromp launched her helicopter, located a skiff and was forced to fire several warning shots before the 10 metres long mother ship (whaler) stopped. A boarding party soon took control of the boat with two persons onboard. HNLMS Tromp continued to search the area and, the following day, found two suspicious skiffs with seven persons onboard about one hundred nautical miles from the whaler. Some equipment had been jettisoned but ladders and weapons were found onboard the skiffs. All equipment was confiscated and the mother ship was destroyed.

At about the same time as the Tromp was disrupting her PAG, and approximately one hundred nautical miles North West of the Seychelles, the Seychellois Coast Guard PB Andromache was guided by EU NAVFOR MPA onto another mother ship and two skiffs, who were believed to have been involved in an attempted hijacking on a Spanish tuna Fishing Vessel Txori Argi the day before. After that attack, the EU NAVFOR MPA monitored the PAG and was able to direct the Seychelles Coast Guard on to the approximate position of the attack. Eight suspected pirates have been taken into custody.