DFDS Selects NaturaLINE Refrigeration Units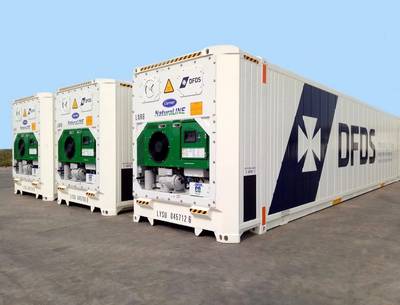 Danish international shipping and logistics company DFDS Logistics said that it is purchasing 50 Carrier Transicold NaturaLINE units, which claimed to be the industry's only natural refrigerant-based container refrigeration system.

Carrier Transicold is a part of Carrier, a leading global provider of innovative heating, ventilating and air conditioning (HVAC), refrigeration, fire, security and building automation technologies.

The NaturaLINE units use carbon dioxide, also known as R-744, a non-ozone depleting refrigerant with an ultra-low global warming potential (GWP) of 1. Its GWP ranks lowest among all current container system refrigerants, which have GWPs ranging from hundreds to thousands of times greater.

DFDS considers deployment of the NaturaLINE unit complementary to its corporate social responsibility initiatives, which call for limiting the impact of its activities on the environment.
"The NaturaLINE units help reduce our environmental impact compared to other container refrigeration systems," said Jack Hodgson, fleet manager, DFDS Logistics, part of DFDS Group, headquartered in Copenhagen, Denmark.

Underscoring its commitment to the technology, DFDS has emblazoned each of its new 45-foot containers with the slogan "Naturally Chilled: No synthetic refrigerants – kinder to the environment."

"We commend DFDS' commitment to a more sustainable future through its selection of the NaturaLINE unit," said Flemming Kuhl, sales director EMEA, Carrier Global Container Refrigeration. "As more shipping fleets are discovering, the NaturaLINE unit's use of a natural refrigerant can also help to guard against regulations, environmental taxes and phase outs that other refrigerants may be subject to during the operational life span of units purchased today."