Kleven: MoU to Build Diamond Mining Ship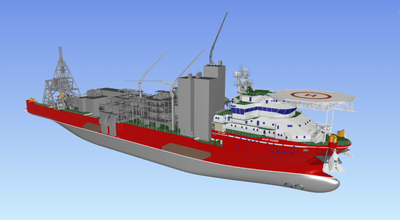 Kleven signs MoU with De Beers Marine Namibia for an offshore vessel purpose-designed for seabed mining operations
Kleven signed a memorandum of understanding (MoU) with Namibian offshore diamond mining company De Beers Marine Namibia for the building of an offshore vessel purpose-designed to support seabed mining operations. Designed by
Marin Teknikk
of
Norway
, the 176m ship will be the longest vessel to date to be built at the
Kleven yard
in Ulsteinvik, Norway.
The MoU follows Kleven's June 2016 delivery of SS Nujoma to De Beers Marine Namibia.
"With unrivalled sample quality and a fuel consumption 30 percent lower than expected, the SS Nujoma has been a success story for us from the start. We are really pleased with the vessel and the great partnership we have with Kleven and Marin Teknikk, and the realization of a mining vessel is the natural next step for us," said Mike Curtis, Head of Projects in De Beers Marine.
'We are really pleased to continue our partnership with De Beers Marine Namibia, and to work with them on the realization of this extraordinary vessel. At this stage it is an MoU, but both parties have every intention of turning this into a firm agreement during the first few months of 2018,' said Ståle Rasmussen, CEO of Kleven.

The vessel would be equipped with diesel electric frequency controlled propulsion, azimuth thrusters, 4P mooring system and dynamic positioning system.