Diesel-Electric PSV for Norwegian Firm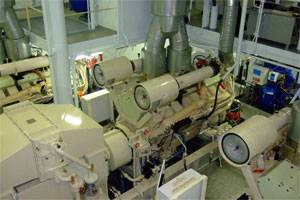 In keeping with the growing popularity of diesel-electric DP2 capable platform supply vessels (PSV) Norways REM Offshore based in Fosnav took delivery of the Rem Mermaid in 2008. The 262.5 ft vessels azimuthing stern drives and twin bow thrusters make it capable of operations in DP2 mode. Four Cummins KTA50-(D)M diesel electric units have a total output of 5,164 kW. However the system allows these units to be operated one, two, three or four at a time to maximize fuel savings by matching power with demand.

Built at the Norwegian yard Simek A.S. the Rem Mermaid has a beam of 54 ft and a 24.5 ft moulded depth. Capacities on the 3550-ton deadweight vessel include 1135 cubic meters of ballast water, 965 cu. mt. of drill water, 650 cu. mt. of fresh water, 320 cu. mt. of dry builk, 1083 cu. mt. liquid mud and 1355 cu. mt. of fuel oil.

Accommodation in the DNV-classed Rem Mermaid is provided for up to 46 crew and offshore workers. The vessels four Cummins KTA50-(D)M diesels are Green Passport compliant with EU standards and meet all clean and current emission regulations.