NYK Line Focuses on Green and Digitalization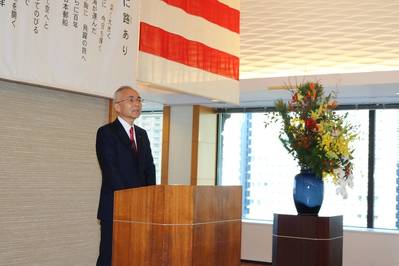 NYK president Tadaaki Naito called for promoting environmental issues and the utilization of IoT. "I hope to advance the group's activities with a focus particularly on the keywords 'green' and 'digitalization' this year," he said.
"We are already making progress in both fields, and pressing forward to promote their use in practical operations that will allow us to realize a wide range of ideas and further differentiate ourselves," Tadaaki added.
ONE, the joint venture company for liner integration, will aim to commence services from April this year, and the difficult work of bringing the company to life is continuing. It is most important for the NYK Group to provide full support to these efforts.
Regarding logistics, with a focus on YLK, I want everyone to give their best efforts to this core business of the NYK Group. I hope that logistics will be the frontline of the entire
NYK Group through
the utilization of our global network to achieve closer relationships with our customers.
Air freight cargo volumes have remained strong, and during this time I hope you prepare a system for operations with the jumbo freighter segment, a strength of NCA, and work to make this year a huge success.
"With regard to the dry bulk division, in the second half of last year I believe that we finally exited the long, seemingly endless dark tunnel hampering the dry bulk segment. Now that the market is recovering, it is time to advance structural reforms aimed at transforming all the efforts made with gritted teeth. By using data and IT tools, I hope that you will increase your ability to respond to the market," he added.