Disabled Bulk Ship Drifted Near Great Barrier Reef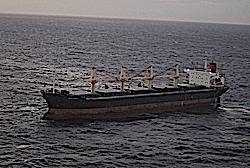 The Australian Maritime Safety Authority (AMSA) provided assistance to a drifting bulk carrier in the Coral Sea before tugs arrived
The Hong Kong-flagged bulk carrier, ID Integrity advised AMSA's Rescue Coordination Centre (RCC Australia) that it had suffered an engine breakdown en route from Shanghai to Townsville.
The unladen vesselwas drifting in a westerly direction towards Shark and Vema Reefs (approximately 175 nautical miles north-east of Cairns) while the crew attemped to repair the engine.
The owners of the vessel dispatched two tugs to the scene. AMSA also tasked the Emergency Towage Vessel (ETV) Pacific Responder. RCC Australia and communicated with other vessels in the area which might be able to provide assistance.
In its latest update AMSA reported:
At around 8:30am AEST on Sunday, the ETV Pacific Responder connected a towline to the ID Integrity. The PT Kotor has disconnected its towline and is standing by, ready to provide assistance as required. The PB Leichhardt is also in attendance, providing an escort for the towing operation. The PT Kotor will remain on scene as required.

The Pacific Responder will now alter its course to the south-west and commence towing the vessel to Townsville (a journey of approximately three days, weather dependent), where the owners will arrange for repairs to the engine to be undertaken.