Tugboat Allides with Inactive Wellhead, Triggers Discharge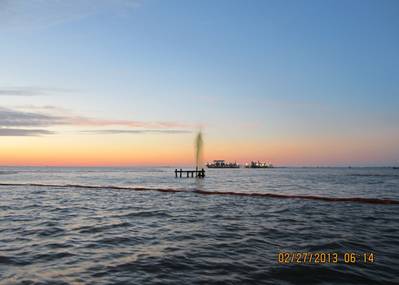 The Coast Guard is reponding to limit pollution of the sea in the area 9 miles SW of Port Sulphur (on W. bank of the Mississippi) Louisiana.
Coast Guard Sector New Orleans watchstanders received a report Tuesday that the 42-foot crewboat Sea Raider, allided with a wellhead owned by Swift Energy, causing the platform to discharge an oily-water mixture.
The Coast Guard subsequently updated the situation as follows:
Swift Energy, the responsible party, has contracted a barge to secure the wellhead. Response crews have deployed 1,800-feet of boom to contain the discharged oily-water mixture from the wellhead. The discharge coming from the wellhead is less than 840 gallons of oil being spilled per day.

"Our responders are aggressively attacking this spill," said Capt. Peter Gautier, the Captain of the Port for Coast Guard Sector New Orleans. "We've quickly mobilized boom to contain, skimmers to clean up spilled oil and operations to plug the well are our top priority. Well control operations will start tomorrow morning."

Two oil-skimming vessels are on scene conducting cleanup operations. Two contracted fixed wing aircraft with Coast Guard aerial observers onboard have been conducting overflights of the impacted area throughout the day.
The Coast Guard is working with federal, state and local agencies which include, Louisiana Oil Spill Coordinators Office, Louisiana Department of Environmental Quality, Louisiana Department of Wildlife and Fisheries, Louisiana Department of Natural Resources and Plaquemines Parish as well as the responsible party, Swift Energy, in response to this incident to secure the well and contain and clean up any oil that is leaking.

Swift Energy reports the wellhead was shut down and became inactive in December 2007. The wellhead produced crude oil and natural gas.

The Coast Guard is investigating the cause of the incident.