Statoil: Third Gullfaks License Discovery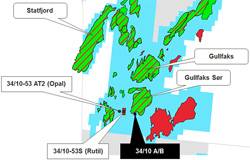 An exploration well and a sidetrack currently being completed by Statoil near Gullfaks South have yielded the third discovery made in the Gullfaks licence so far this year.
This confirms yet again that infrastructure-led exploration is important and yields highly commercial finds which can be brought on stream quickly," says Tom Dreyer, exploration head for the northern North Sea.
"We regard the area around Gullfaks South as prospective and the find confirms our faith in the area. Even though the volumes are modest compared with the large finds made off Norway earlier, this type of discovery is important for maximising the potential on the Norwegian continental shelf, and contributes to extending the production life of installations."
The wells were intended to prove petroleum in Middle Jurassic reservoir rocks of the Brent group, and whether communication exists with the producing structures in Gullfaks South.
Oil- and gas-bearing intervals were observed in the upper part of the Brent group along both well paths, and a column about 120 metres thick with good reservoir quality was proven.
No hydrocarbons were found in the lower Brent group. The wells have not been formation tested, but data were collected and cores taken to determine the hydrocarbon system and contacts.
Preliminary calculations indicate that 3 to 9.5 million barrels of recoverable oil equivalent are present, which are planned to be tied back to existing infrastructure in the Gullfaks area.
The two other discoveries made so far this year in the Gullfaks licence are Rutil and Opal.
Facts
Exploration well 34/10-52 A was drilled to a vertical depth of 3,440 metres beneath the sea - surface and terminated in the Middle Jurassic Drake formation.
- The 34/10-52 B sidetrack was drilled to a vertical depth of 3,580 metres beneath the - sea surface to terminate in the Drake formation.
- The wells were drilled from Deepsea Atlantic, which will now be taken to land for modification work before continuing production drilling on Gullfaks South.
- The water depth in the area is 136 metres.
- Licensees in PL 050 are Statoil (operator) 70% and Petoro 30%.
(Source: Statoil.com)